SDM Zanskar reviews progress of snow clearance works on NH301
Kargil, Feb 13, 2023: Sub Divisional Magistrate, Zanskar, Sonam Dorjay today visited up to Atting Bridge to review the progress of snow clearance works on NH301.
He directed the concerned site JE of Package 08 to engage more men and machineries as there is only one JCB to clear the road of Package 08.
The SDM stressed them to clear the road by tomorrow and expressed dissatisfaction over the current snow clearance work.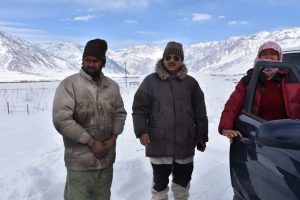 The site JE informed the SDM that two machines are engaged from Skyagam side and he ensured that the Package 08 portion would be cleared by tomorrow.
The snow clearance of Package 07, which is from Skyagam to Rangdum road, has been cleared upto Jangjung.
SDM Zanskar also contacted the Manager of NHIDCL and discussed the non-availability of machines on Package 08.
The SDM also inspected the snow clearance of the Mechanical Department of various link roads. The link roads of Salapi Gyapak, Rukruk, Ufti Pibiting, Karsha, Langmi Riging, Techa Khasar, Stongday Kumik, Zangla and surrounding areas of Padum are completed. The main road of Zangla was also cleared by the BRO.