KARGIL, APRIL 24, 2022:
Commissioner Secretary Higher Education, Social Welfare and Technical Education, Padma Angmo today on the third day of visit to Kargil visited proposed construction sites of GDC Sankoo, GDC Kargil off-campus Sankoo, held a meeting related to the establishment of Ekavya Model Residential School (EMRS) and inspected Anganwadi Centres of Sankoo.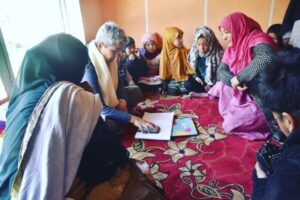 District Programme Officer ICDS Nargis Banoo, Principal GDC Kargil Amina Qari, District Social Welfare Officer Aga Syed Jamal, CDPO Kargil Parveen Akhter, Councilor Lankerchay Constituency Ghulam Haider besides other officers accompanied the Secretary during the tour.
She visited different Anganwadi centres under Sankoo Project including various villages such as Trespone, Saliskote, Farona Lankerchay and Sankoo.
She interacted with the Supervisors, Anganwadi workers and Helpers and discussed various issues specific to the centres besides interacting with children and their parents.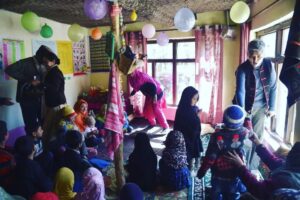 Commissioner/Secretary Padma instructed the concerned Anganwadi workers to update data regularly on the Poshan Tracker and directed the Anganwadi Helpers to maintain cleanliness in the centre. She directed to keep a check on the Severely Acute Malnutrioned (SAM) and Moderately Acute Malnutrioned (MAM) children and do regular consultation with the health officials to reduce the MAM and SAM cases in the district.
The Commissioner Secretary asked PRI members to supervise the functioning of Anganwadi centres and disburse the remuneration of the concerned staff on time.
Secretary Padma also took assessment of the early education and TLM-related activities.
The Commissioner Secretary also visited the proposed site of GDC Sankoo and later visited GDC Kargil off-campus Sankoo where she interacted with faculty members and took assessment of academic activities.
She directed to send a project proposal for the establishment of Science Laboratory at the earliest and assured to take up funding support for the same.
At Sankoo, Commissioner Secretary Padma held a meeting pertaining to the establishment of Eklavya Model Residential School (EMRS) Sankoo.
Superintending Engineering PWD (R&B) circle Nisar Bagh, Director SECMOL and recipient of Ramon Magsaysay Award Sonam Wangchuk, Senior Technical Assistant, Ministry of Tribal Affairs Pramod Aggarwal, Consultant and Project Engineer of National Projects Construction Corporation (NPCC) besides concerned officials were present during the meeting.
Detailed deliberation and discussion were held on different aspects of the construction and establishment of the EMRS.
The meeting discussed measures to be taken to make the school functional round the year despite weather constraints and in this regard facilities like passive solar heating, required insulation and other heating practices were discussed.
The meeting also acknowledged that the project needs to be completed in a phased manner and the recurring cost should be reduced.