Team from Ladakh attends 3 days Gujarat Summit at Anand Agriculture University
Leh, December 17
A team comprising of Director, Animal, Sheep, Husbandry and Fisheries, Dr Mohd Raza, Chief Agriculture Officer/Nodal Officer, Agriculture Department, Ladakh, Tashi Tsetan, CAHO Leh, Dr Mohd Iqbal, OSD, Dr Stanzin Thakchos, and Deputy Registrar Cooperatives, Leh, Dr Mohd Abbas, attended 3 days pre-vibrant Gujarat summit at Anand Agriculture University, Anand Gujarat.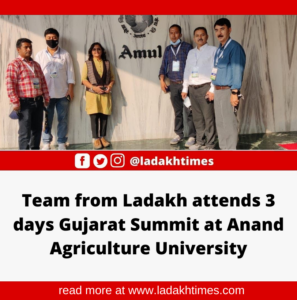 The team attended all the sessions on development and the latest trends in agro-livestock sectors at national and international levels. Also, the team visited the milk pasteurizing facility of Amul and the manufacturing plant of IDMC at Anand.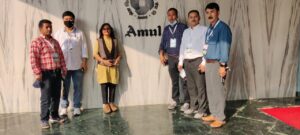 Later in the day, the team had an interactive meeting with the Chairman, National Dairy Development Board (NDDB) and took up the matter of prospects of Dairy Development in UT of Ladakh. The Chairman assured of extending all the handholding support to UT of Ladakh and also added that NDDB will prepare an action plan for the UT of Ladakh.