Training program on disaster management continues in Gram Panchayats of Kargil
Kargil, March 18, 2023:
In connection with the training programs on disaster response, relief and rescue being held across Kargil district organized by District Disaster Management Authority (DDMA) Kargil through Aapda Mitra Volunteers in collaboration with UTDRF, Fire and Emergency, Health and Rural Development and Panchayat Raj Department (RD&PRD) today started in different Gram Panchayats of Shakar Chiktan and Sodh Block.
The training programs were held at Panchayat Ghar Apati, Panchayat Halqa Apati & Barchey, Block Sodh, Panchayat Ghar Silmoo, Panchayat Halqa Lalung Silmoo, Block Sodh, BDO Office Shakar, Panchayat Halqa Shakar, Youkma Kharboo, Sanjak, Block Shakar Chiktan.
The programs at different venues were attended by the concerned BDOs, Apata Volunteers, BDCs, DDMA Officials, PRI members, Lumberdars, Sarpanches, Panches, religious organizations members, NGOs, school students and huge number of public including women participated in the training program.
The training program aims to train local population for any challenged situation in times of disaster and calamity and give them practical knowledge about the various disaster-related equipment in order to effectively meet the emergency situations.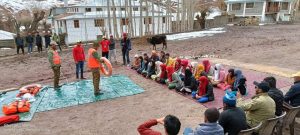 In the training program, the volunteers from Apada, UTDRF persons and other resource persons presented demonstrations related to disasters to the participants to meet any challenging situation in times of disasters.
Moreover, demonstrations were also given to the audiences for the first aid treatment to injured ones at the time of any untoward incident. Also the participants were given practical training on how to deal with disasters.
During the training program, search and rescue kit (Panchayat kit) were also displayed at all the program venues. The PRI members gave details about these kits and practically showed the participants the use of the kits during emergencies.
The participants were satisfied with the training and the equipment in their hands in times of disaster and emergency.