Veterinary doctors of Ladakh forms Ladakh Veterinary Doctors Association
Leh, Aug 03: With the aim and objective of further improving the quality and reach of veterinary services in Ladakh, an important meeting of all the veterinary doctors of UT Ladakh was held today in Leh.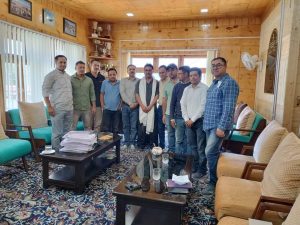 The meeting led to the formation of Ladakh Veterinary Doctors Association to serve as a platform to discuss and raise various issues including, technical networking, knowledge sharing and more efficient use of resources in the field of veterinary science. The association would also aim to discuss matters pertaining to the fraternity at appropriate forums.
The meeting unanimously elected the executive body of the Association with Dr Fida Hussain as the President to be aided by Dr Tundup Namgail, Dr Gulzar Hussain in their capacity as Vice Presidents and Dr Stanzin Rabgais as the General Secretary.
Other functionaries of the association in various capacities were also appointed for the newly formed body.
Various emerging issues pertaining to the veterinary services and veterinarians were also deliberated in the meeting.