Zonal Level Teaching Learning Materials Maha Mela Concluded at Sankoo, Kargil
KARGIL, 28 August 2022:-In order to give a platform to all the Schools of the zone to present their Teaching Learning Materials (TLMs) at Zonal Level.
The Zonal Education Officer Sankoo organized Teaching,Learning Materials (TLM), a Maha Mela under NIPUN Bharat of Samagra Shiksha on Sunday at Govt. ASHRM Higher Secondary School Sankoo, Kargil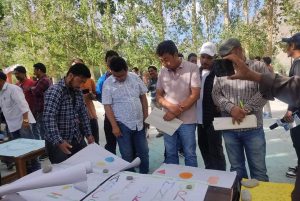 Where in114 Schools of the zone were Participated.
The participating Schools displayed their TLMs in the respective stalls.
Amongst those who werethe jury members including Sadiq Ali Principal HSS Lankerchey, Mohd Shabir Coordinator Samagra CEO Kargil and Mohd Yahya Lecturer DIET of Kargil
During the course of TLM Maha Mela the teacher incharges of the Schools demonstrated their TLMs. P/S Iqbal Colony, M/S Thangzour, M/S Zganjing,. P/S Yokma Grong, M/S Thila and M/S Gaskal were among the six Schools selected for Participating in the District Level Maha TLM Mela to be organised at DIET Kargil on 30th of August 2022
Cah Prizes were distributed among the six selected school during the valedictory function.
While Speaking on the occasion Mr. Hadi Ali Zonal Education Officer Sankoo congratulated the selected schools and thanked all the Participating Schools for presenting innovative TLMs during the Mela.
He also asked the teachers to use the TLMs in their respective Schools to give a better understanding to the learners.
He further thanked the jury members for sparing their precious time despite holiday.