2-day disaster preparedness and response training program concludes at GHSS Shakar
Kargil, Nov 15, 2022: On the direction of the Deputy Commissioner/Chairman District Disaster Management Authority (DDMA), the two-day Disaster Preparedness and Response Training Program organized by sub-divisional level disaster management committee concluded today at Govt. Higher Secondary School Shakar.
On the second day of the training program, Chairperson BDC Shakar Chiktan Sayeeda Banoo, Sub Divisional Magistrate (SDM) and Chairman Sub Divisional Level Disaster Management Committee Shakar Chiktan Muhammad Sharief Kakpori, Incharge UTDRF Kargil, Inspector Iftikhar Hussain, Tehsildar Chiktan Ghulam Rasool, Incharge Block Medical Officer (BMO) Chiktan, Principal GHSS Chiktan, Principal GHSS Shakar, Incharge Police Post Chiktan, Incharge Fire and Emergency Services Kargil, MD Yakland Enterprises besides PRI members, sub-divisional officers and officials, representative of DDMA, ex-servicemen and students were present on the occasion.
The SDM presented welcome speech and briefed the audience about the training program. He stressed on participants to acknowledge about basic disaster management and appreciated them for attending such training programs.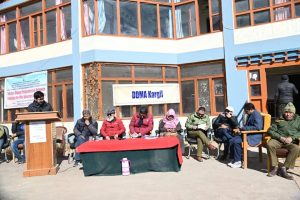 Incharge UTDRF Kargil Inspector Iftikhar Hussain presented a detailed presentation on disaster management and preparedness. He expressed gratitude to the SDM for conducting such training programs for the benefit of local people. He explained the basic disaster mitigation steps to the audience.
Incharge Fire and Emergency Services Kargil Akbar Ali also spoke on the occasion and explained the mitigation steps of fire incidents.
The Incharge BMO also spoke about the health perspective of disaster preparedness on the occasion.
MD Yakland Enterprises explained about the use of fire extinguishers and their use in emergencies to the audience.
Representative of DDMA Bashir Hussain gave a detailed presentation on disaster preparedness and response while Tehsildar Chiktan presented vote of thanks.
A mock drill was also organized by the UTDRF Kargil, DDMA Kargil and Fire and Emergency Services, Kargil.
Pertinently, the training is being organized by Sub Divisional Level Disaster Management Committee in collaboration with DDMA, UTDRF, Fire & Emergency Services, Yakland Enterprises Kargil, and Ex-Serviceman Association Shakar Chiktan.
Later, the dignitaries presented the certificate of appreciation to the participants.