2-day Ladakh Literary Conference concludes at Kargil
Kargil, March 28, 2023:
The two-day Ladakh Literary Conference organized by Ladakh Academy of Art, Culture and Languages (LAACL) Kargil concluded today at Conference Hall Baroo.
On the occasion, Executive Councilor, RD, Tourism and Zaskar Affairs, Er Phunsok Tashi was the chief guest besides Director Kargil Campus, University of Ladakh, Kaneez Fatima, Deputy Secretary LAACL Kargil, Nazir Ahmed were present besides prominent poets, historians, scholars and writers from Ladakh were also present.
Speaking on the occasion EC Tashi congratulated LAACL for organizing the event at such a large scale. He said the program will not only aware the general public about the rich art culture and history of Ladakh but also the coming generation.
Tashi said post the formation of UT Ladakh, the gap between Leh and Kargil has reduced to a larger extent. He said such programs play a pivotal role to bring people of both districts together at a common platform.
Hailing the diverse culture of Kargil, the EC said that cultures like Balti, Sheena, Purgi, Dardi Aryan is the identity of Kargil which needs to be preserved and promoted at world level platforms, interlinking culture and tourism.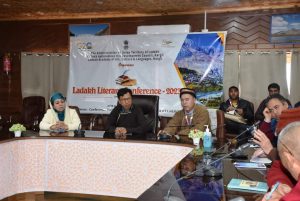 EC Tashi said with the promotion of local cultures tourism will also increase in the area which will provide employment opportunities in the region.
He also hailed the work of Dr Sonam Wanchok in the promotion and preservation of local heritage in Ladakh adding that his selfless contribution will be remembered by generations.
He requested Deputy Secretary, LAACL Nazir Ahmed to conduct research in the cultures of far-flung areas of the district like Zanskar, Drass and other places so that the history and cultures of these areas are also included in the mainstream debates.
During the program, more than 50 Shina, Purgi, Balti, Dardi Aryan, Ladakhi poets, writers, historians and scholars presented their poetry, paper presentation, short stories recital sessions.