Energy Efficiency Measures launched in the UT Ladakh
LG Mishra distributes Inverter Bulbs to local beneficiaries
Leh, Mar 28: Lt. Governor of Ladakh, Brig. Dr. B.D Mishra (Retd.) in the presence of Chairman/CEC, Tashi Gyalson, and Member Parliament Ladakh, Jamyang Tsering Namgyal launched Energy Efficiency Measures in the Union Territory of Ladakh. Advisor to LG Ladakh, Umang Narula, and CEO EESL, Vishal Kapoor were also present during the launch ceremony.
The event was organised by Energy Efficiency Services Limited, India in collaboration with the UT Administration and the Hill Councils. It is focused on providing efficient energy measures in Ladakh and reducing carbon emissions.
During the event, local beneficiaries were provided with inverter bulbs through the hands of LG Ladakh. These bulbs are known to reduce energy consumption, lower electricity bills, and can provide an emergency backup of four hours as informed.
LG Mishra commended EESL's initiatives for providing energy-efficient lighting, heating, and cooking facilities to adopt green practices to reduce carbon emissions and control pollution in the country. He stated that the introduction of zero-emission energy-efficient solutions will prove beneficial for the environment and also the existence and good health of the people of Ladakh. He also stated that energy-efficient measures will further expedite the development process in Ladakh.
Speaking at the event, CEC Gyalson stressed the importance of sustainable development and the need to adopt eco-friendly technologies. He also emphasised the significance of reducing carbon emissions and preserving the environment for future generations. He stressed the importance of involving local vendors in the distribution of the inverter bulbs being provided by EESL to the local beneficiaries. He also emphasised the need for sensitizing individuals to the efficient usage of electric appliances in their daily lives.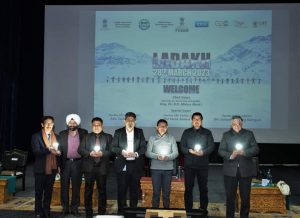 H'CEC also highlighted the initiatives taken by Hill Council, Leh, and the Ladakh UT Administration on promoting green energy, solar energy, and hydrogen energy through MoUs with various institutions including SECI, ONGC, and NTPC. These initiatives are being taken to make Ladakh a model Union Territory and to achieve PM Modi-led union government's vision of making Ladakh carbon-neutral by 2050.
In his Address, MP JTN spoke about the government's efforts to minimise carbon emissions and attain sustainable energy by efficiently using available resources. He emphasised the importance of preserving glaciers given climate change and thanked EESL for the initiative. He also highlighted that this initiative would take a step forward in achieving Prime Minister Modi's vision of 'Ujjwal Bharat'. He expressed hope for Ladakh's future in clean energy and emphasised the importance of working together with all the stakeholders and individuals to achieve this goal.
Earlier, CEO of EESL, Vishal Kapoor welcomed the guests and briefed them about EESL's efforts to make Ladakh a carbon-neutral region. He informed that EESL will also work closely with the local government to sensitise the public about the benefits and the need to adopt energy conservation practices and transition towards a sustainable future.
Dy Chairman, Tsering Angchuk; Executive Councillor for RDD, Tashi Namgyal Yakzee; Executive Councillor for Minority Affairs, Ghulam Mehdi; Administrative Secretaries of UT Administration, Councillors of LAHDC Leh, representatives of PRIs, DC/CEO LAHDC Leh, Directors, District Officers, President BJP Ladakh, and a large number of the public attended the launch ceremony today.