2-day training for laboratory staff of PHED begins in Kargil
Kargil, June 01, 2023: A 2-day induction training for the newly appointed laboratory staff of PHE Division Kargil and PWD Division Zanskar organized by PHE Division Kargil was rolled out today at Conference Hall, Baroo.
Superintending Engineer, PHE/I&FC, Circle Kargil, Maqbool Hussain presided over the opening session and urged trainees to work with dedication and ensure to meet JJM mandate. Executive Engineer, PHE Kargil, Muhammad Hassan, trainers, experts, IEC and ISA members, staff members, other concerned officials of the department attended the program.
The program was organized with the aim to meet up the JJM mandate that includes the National Accreditation Board for Testing and Calibration Laboratories (NABL) accreditation of laboratories, continued monitoring and surveillance of Water Sanitation Sources (WSS) and Functional Household Tap Connection (FHTC).
While addressing the trainees, the Executive Engineer PHE said that the profession and the position of the newly appointed laboratory staff is knowledge-based and the training program will train them to meet the challenges in their professional and practical life.
He told the participants to take maximum benefit of the training program. During the two-day training, important aspects of water quality were discussed in detail.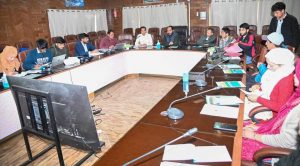 Different trainers and experts addressed the trainees. AEE/Chief Chemist, PHED, Ladakh, Er Urgain Nurboo threw light on water quality, monitoring and surveillance overview. He gave an introduction related to the standards of IS 10500/APHA 23rd and 24th editions and parameters.
Water quality expert, PMU, Er Parikh Shukla talked about the source of contamination and treatment technologies thereof.
Apart from that, a visit to District Water Testing Laboratory, Kargil and a visit to Sub-Division Water Testing Laboratory Sankoo was also organized for the preliminary assessment of resources and GAP analysis.