2nd Buckwheat Flower Festival concludes with colourful celebration
Leh, Sept 10: The 2nd Ladakh Buckwheat Flower Festival 2022 concluded at Skurbuchan village with a colourful celebration.
Senior Superintendent of Police, Leh, PD Nitya and Additional Deputy Commissioner, Leh, Sonam Chosjor graced the concluding ceremony along with Councillor Skurbuchan, Lundup Dorjai; Director, Snow Leopard Conservancy, Dr Tsewang Namgail; District Agriculture Officer, Leh, Tashi Lhamo; concerned departmental officers/officials; different village representatives and public.
Expressing joy over attending such a harvest festival for the first time, SSP Leh called the Buckwheat Flower Festival a unique blend of traditionalism and modernism. She appreciated the organisers for conducting the festival in its natural environs in the village. SSP Leh also expressed hope that the local entrepreneurs would strive hard to promote local food products in markets outside Ladakh.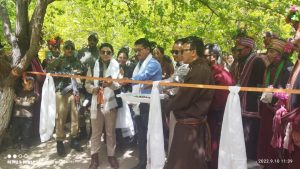 ADC Leh, Sonam Chosjor lauded the efforts of the organisers in reviving the traditional harvest festival and expressed hope to celebrate the Buckwheat festival on a grander scale in the future. He added that such festivals are a medium to promote and revive the cultivation of buckwheat which has huge market potential. He said that this festival would also promote tourism in the Sham region.
DAO, Leh and Director, SLC also addressed the gathering highlighting the potential and benefits of superfoods like buckwheat.
In the vote of thanks, Councillor Skurbuchan expressed gratitude towards the guests and everyone involved in it for making the 2nd Buckwheat Flower Festival a success.
Numerous cultural performances by the villagers of Dha, Hanu and Achinathang were presented beside the display of an array of food, handicraft and handloom products.