2nd Taekwondo Camp Concluded at Shargole
42 Players were awarded Certificate by LTA
06-10-20217
7 days 2nd Taekwondo Training Camp concluded at Spring Dale School Mulbekh.
More than 42 Students Participated in the Camp and benefitted from the expert training of International taekwondo Player Tashi Tundup.
The Camp was organised by Ladakh Taekwondo Association in collaboration with Spring Dale Public School Mulbekh.
On the concluding Day former Executive Councillor and Councillor LAHDC Kargil for Shargole Constituency Mohammad Ali Chandan was the Chief Guest and President Ladakh Quankidow Association and Chairman Ladakh Adventure Sports Shahnawaz Var was the Guest of Honour.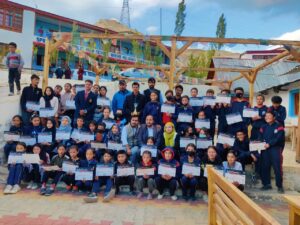 On the concluding Day the Players presenting some demonstration and demonstrated the skills they learned in this 7 Days Training Camp.
Mohammad Ali Chandan thanking the Ladakh Taekwondo Association announced 20,000 for establishing the first Taekwondo Club of Shargole Block as there is a new cream of above 42 players.
He assured for all possible help to make sports infrastructure in the Constituency but requested the people to help in finding suitable locations.
Referring to the achievements of Tashi Tundup, who belongs to Kachey Shargole, urged upon youths to follow such personalities to achieve their individual goals in life.
Anayat Ali SHotopa General Secretary Ladakh Taekwondo Association said that this is the 2nd Camp organised y the Association to reach out porbable players in each and every corner of Ladakh.
He further said that Ladakh Taekwondo Association is the first sports in Ladakh which has more than 100 Black Belts, out of which 40 are girls, Dozens of international Players and National Players, 2 Sher e Kashmir Awardee, one International Refree and 15 Professional National Refrees which is in itself a great achievement of the organization which is working in the field of sports since 1999.
Later the Ceif Guest Distributed Certificates among the Players and Momentous to Spring Dale Public School Mulbekh and Druk Padma Karpo School Kachey for their contribution during the Camp.
On this occasion Chief Technical Expert Ladakh Taekwondo Association NIssar Hussain Balkhani, Cashier Ladakh Taekwondo Association Mohammad Ali Baghi, International Player Shahnaz Parveen, Principal Spring Dale Public School and Parents were also present.