BJP Kargil distribute dry ration kits under 'Seva aur Samarpan' Abhiyan for orphanage center at Kargil District.
Kargil: 06-10-2021
The Bharatiya Janata Party Kargil District Union Territory of Ladakh today distributed dry Ration kits at Al-Zahra Girls Yateem Trust and Al-Mehdi Boys Home Lankerchey being run by Ladakh Yateem Trust under the 'Seva aur Samarpan Abhiyan' as part of Prime Minister Narendra Modi's 71st birthday celebrations.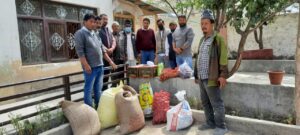 *The BJP Unit Kargil District run a free ration for orphanage Centre campaign under Seva aur Samarpan Abhiyan, The Programme organized Under the leadership of Nominated Councilor LAHDC-Kargil Padma Dorjey, Incharge of Free ration drive.*
On the occasion Councilor and Former Executive Councilor LAHDC Kargil Mohd Ali Chandan, Mohd Ali Majaz BJP State Vice President, Haji Abdul Hussain District President Kargil District, Mohd Hassan Pasha BJP State Media Secretary, Akhon Niyaz Ali Senior BJP Leader, Haji Nissar Ali Roati Senior BJP Leader, Kacho Mohammed BJP District Working Committee Member Kargil were also present.
Talking about the campaign, Padma Dorjey said: "BJP's public popularity is the result of proper implementation of welfare & public empowerment oriented schemes of Prime Minister," He said that PM Modi's leadership is historical and during his tenure, India has witnessed corruption free governance after decades. "Prime Minister's programmers & schemes are meant for weaker sections of society, privileged and deprived class of society, women, tribal population, farmers, laborers and youth.
"The BJP has been marking the birthday of PM Modi as 'Seva Diwas', hosting grand service programmers across the country. It has also been organizing manifold welfare activities across the country for a week in the form of "Seva Saptah".