36th Pune International Marathon concludes at Sanas Sports Ground Pune
CEC Feroz Khan inaugurates Kargil International Marathon Office Pune
Diskit Dolma bags 3rd position in full marathon
Kargil, Dec 04, 2022:
The 36th Pune International Marathon, India's oldest Marathon, concluded today at Sanas Sports Ground Pune which saw huge participation of sportspersons across different places.
Chairman/CEC, LAHDC, Kargil Feroz Ahmed Khan, Executive Councilor for Tourism, RD and Zanskar Affairs, LAHDC, Kargil Er. Punchok Tashi, Councilor Taisuru, Syed Abbas Razvi, Assistant Commissioner Revenue Kargil, A G Zargar, Founder Sarhad, Sanjay Nahar, athletes, members of Kargil media fraternity, hoteliers, delegates, athletes from Ladakh Athletic Association besides other concerned were present on the occasion.
Speaking on the occasion, the CEC thanked the management committee of the marathon for inviting the delegates, athletes and media persons from Kargil to take part in the event.
Khan said the event is an opportunity to gain first-hand experience and reflect the same in organizing the next Kargil International Marathon at a larger scale.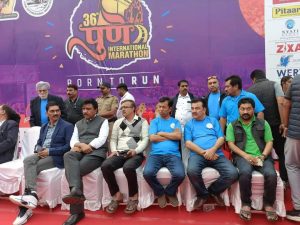 He said by organizing such large-scale events, the relations between Pune and Kargil will become strong day by day. Khan also said that they are hoping for a strong exchange in the field of Tourism, Education and Sports.
The CEC expressed happiness over the participation of athletes from Ladakh in the marathon. He said if sportspersons from Ladakh are given necessary training and guidance, they can excel at national and international level competitions.
Hailing the success of Diskit Dolma in bagging the 3rd position in full marathon, Khan expressed hope that she will inspire other athletes to excel in this field.
Later, the CEC inaugurated the Kargil International Marathon Office Pune. While addressing the event, he assured that the upcoming marathon in Kargil next year will be on a mega scale and suggested everyone to contribute in making the event successful.
MLC and Former Member of Parliament, Ranjit Sinha Mohite Patil thanked the organizers for inviting him in the next Kargil International Marathon and expressed hope for maximum participation which will further push the tourism sector of Kargil.