[9/11, 6:56 PM] LADAKH TIMES: Press Release
Sheikh Nazir Mehdi Mohammadi Re-elected President of Influential AJUIAK Ladakh
11-09-2021
The Election of the Prestigious and the biggest Religious Body Ladakh Anjuman Jamiyat Ullama Isna Ashriya Kargil (AJUIAK) Ladakh concluded today at Hozia Ilmiya Complex Kargil.
Sheikh Nazir Mehdi Mohammadi re-elected as President of the influential AJUIAK Ladakh for next five years and Sheikh Ghulam Ali Won the election for Vice President.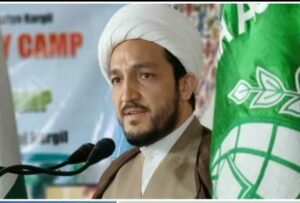 Former General Secretary AJUIAK Ladakh Sheikh Ibrahim Khalili was re-elected as the General Secretary once again.
The Result was declared by the Returning Officer Election Authority AJUIAK Ladakh Haji Hassan Khan Rtd KAS after completion of the election process started at 8 Am in the morning.
The members of the Ulema Councils and senior citizens of Kargil consisting of approved Voter List participated in the election as per the guidelines and By-Laws already existing.
The New President vowed to strengthen the works of AJUIAK Ladakh and strengthen the already existing structure of the institution by taking all the stake holders along with.
Shikh Nazir Mehdi Mohammadi said that Muslims in Ladakh were eying on this election and they have keeping hope with organization and the election has shown the democratic setup of the seminary as a Whole.
He further added that we are a family here and election is just a part in future we all have to join hands to work for the well being of the society.
Our ancestors had sacrificed everting for building this institution for the welfare of the region and our responsibility is to fulfill their dream by establishing a peaceful society in the lines of the teachings of holy Ahlaebait.
The election was conducted under the strict vigil of the Election Authority of AJUIAK Ladakh led by former IAS Officer Asfindiyar Khan Constituting of 3 Former Deputy Commissioners Haji Hassan Khan, Haji Fida Hussain and Haji Gulzar Hussain with proper use of Ballot box.