Great opportunity to those who are willing to learn and earn for their livelihood.
We G&G has started our training centre at Choglamsar Leh to train the candidates in different job roles:
1. Craft Baker
2. Squash and Juice Processing technician
3. GDA
The scheme in which we are giving these training is under Ministry of Minority Affairs- (Seekhon Aur Kamao)
Target is alloted by NSDC.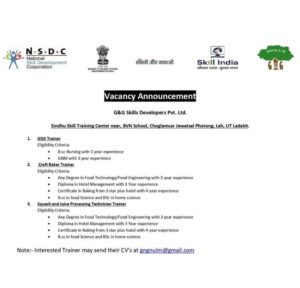 (Looking for The candidates
who are needy and willing to learn genuinly Also, we have opening for trainers.)
#NSDC #MOMA #LAHDC #DIPRLeh #SkillIndia #Seekhoaurkamao #GnGSkillsDevelopers