Div Com Ladakh reviews progress of relief & reconstruction in Kargil after recent flash floods
Leh, Sep 11: Divisional Commissioner who is also the Secretary, Disaster Management, Relief Rehabilitation and Reconstruction (DMRRR), Ladakh, Saugat Biswas, today chaired a meeting to review the progress of relief and reconstruction activities in Kargil in the wake of the recent flash flood.
Secretary DMRRR Ladakh Saugat Biswas enquired about the temporary and permanent restoration projects in Kargil from the concerned officials. The repair and restoration projects in the wake of the recent flash floods include schemes for crops and houses damaged due to flood, drought, irrigation khul, soil conservation, rural development, water restoration, livestock loss, Power Development Department (PDD), bridges and roads, and mechanical division.
He also asked about the ongoing work to provide relief to the affected families and the work completed to date. He also enquired about the release of funds for the completion of the work at the earliest.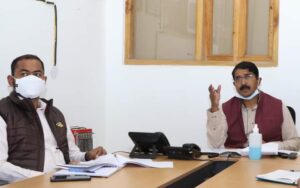 During the meeting, the concerned officials apprised Secretary DMRRR Ladakh of the damage caused to houses, electricity poles, foot bridges, drinking water sources and irrigation canals, livestock and relief provided to the affected families. The officials also informed about restoring electricity and link roads of the flood-affected villages of Kargil.
The concerned officials informed Secretary Biswas that all the temporary restoration projects have been completed successfully, while the permanent restoration projects would be completed by October 31.
Secretary DMRRR directed the concerned officials to expedite the restoration work at the earliest.
Deputy Commissioner, Kargil; Additional Deputy Commissioner, Kargil; Assistant Commissioner Revenue, Kargil; Superintending Engineer PWD Kargil; Assistant Commissioner Development, Kargil; Executive Engineer, R&B-II, Kargil; Executive Engineer, PHE Kargil; Executive Engineer, REW, Kargil; Executive Engineer, SSD Zanskar; Executive Engineer, SVD Sankoo and Executive Engineer, PDD, Kargil attended the meeting virtually.