3rd UT Level Apex Committee reviews progress made in compliance with National Green Tribunal Orders and other environmental issues
Leh, January 24: The 3rd UT Level Apex Committee meeting was held under the Chairmanship of Advisor Ladakh, Umang Narula to oversee the implementation of Hon'ble National Green Tribunal (NGT) orders on Solid Waste Management Rules and other environmental issues in the Union Territory.
At the outset of the meeting, Member Secretary, Ladakh Pollution Control Board (LPCC), Sajad Hussain Mufti gave a detailed presentation on the action taken report on the decisions taken during the 2nd UT Level Apex Committee meeting viz. three model villages in each district stand notified by Rural Development Dept in compliance to NGT directions in O.A No 606/2018; UT Level Solid Waste Management Policy, Strategy and Action Plan; & Plastic-Smart Urban Ladakh Strategy and Action Plan notified by H&UDD Dept on 20th December 2022; awareness programmes to sensitize general masses carried out on Top Fm Radio and Doordarshan, Leh; Silence Zones notified by LPCC as proposed by H&UDD; 42 machines/vehicles seized and compounding of offense/fine imposed on defaulters involved in illegal mining, and RFP submitted for approval of competent authority for setting up of Continuous Air Monitoring Stations in Leh and Kargil district, amongst others.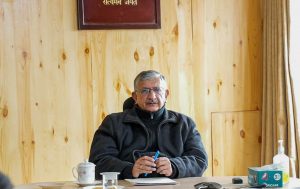 Taking stock of the progress of work, Advisor Narula directed the concerned officials to ensure the completion of work within the stipulated time frame. Advisor Narula reiterated that fines should be imposed and realised consistently from defaulters and instructed the officials to ensure that Single Use Plastic ban is strictly followed. Detailed discussions also took place on legacy waste, e-waste, and bio-mining.
Additionally, the officials apprised the Advisor that the Policy and Strategy on Management of Construction and Demolition Waste also stands notified by the H&UDD Dept.
The meeting was attended by Principal Secretary, Forest, Ecology & Environment/Health, Ladakh; Commissioner/ Secretary, Public Works Department, Ladakh; Commissioner/ Secretary, Industries and Commerce Department, Ladakh; Commissioner Secretary, Tribal Affairs Department, Ladakh; Administrative Secretary, Tourism Department, Ladakh; DIG, Ladakh; Director, Rural Development & Panchayati Raj, Ladakh; Director, Industries and Commerce Department, Ladakh; Director, Urban Local Bodies, Ladakh; Director, Health Services, Ladakh; and other concerned officials.