Director RDD Ladakh kick starts NRLM activities in TSG  Block
KARGIL, OCTOBER, 04, 2021: Director Rural Development Department (RDD) Ladakh Tahir Hussain Zubdavi today inaugurated National Rural Livelihood Mission (NRLM) scheme in TSG Block.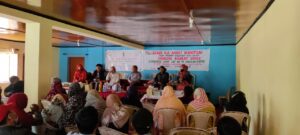 Assistant Commissioner Development (ACD) Kargil Ghulam Muhammad, BDC Chairperson TSG Haji Tahir Hussain, BDO Asgar Ali,concerned officers, SHG Workers and local villagers were present on the ocassion.
Speaking on the ocassion, Tahir Hussain Zubdavi suggested the women folk to work in coordination with SHGs and also get acquainted with the technicalities related to bank processes and other matters to take benefit of NRLM from time to time. He added that NRLM is one of the prestigious schemes of the Government of India for improvement of rural livelihood, and will certainly bring changes in the lives of the women folk of this block as well.
ACD Ghulam Muhammad addressing the aspiring SHGs said that the aim is to provide self-employment to women folk with their own efforts as well as collaborative efforts.
The ACD added that all Village Level Workers (VLWs) have been directed to coordinate with the PRI members, Community Resource Persons (CRPs) and Professional Resource Persons (PRPs) for establishment of SHG groups within 40 days and reading materials have also been distributed among the SHGs.
Pertinently, the Rural Development Department Ladakh is in the process of establishing 200 SHGs in TSG block and PRPs and CRPs from Sodh Block will help the women workers of TSG
block
to frame the SHGs which will be benefited from time to time with all the benefits of the scheme
such
as community revolving funds and other
benefits.