Tehsildar Khaltsi provides revenue services at doorstep in Singay Lalok
Leh, Oct 04: Tehsildar Khaltsi, Tanveer Ahmad conducted a four-day tour to the Singay Lalok area from 29th September to 2nd October 2021. The tour was a reach-out programme which aimed to deliver revenue services at doorstep in the remotest villages.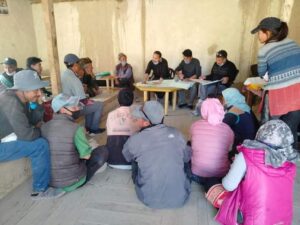 During the tour, the revenue official team headed by Tehsildar Khaltsi held special revenue services camps at different villages, including Youlchung, Nyeraks and Photoksar.
Jamabandi of revenue village Youlchung was read over among the village residents and attested during the camp. Similarly, 112 Scheduled Tribe certificates, 75 income certificates and 42 other certificates were issued during these special camps.