EC Phunsok Tashi takes stock of stock, supply position of essential commodities in Zanskar Sub Division
KARGIL, OCTOBER 04, 2021: Executive Councilor for Tourism and Zanskar Affairs Er Punchok Tashi convened a meeting with the concerned officers regarding the winter stock position of various essential commodities in Zanskar here today.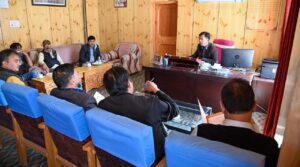 Sub Divisional Magistrate (SDM) Zanskar Sonam Dorjay, Executive Engineer Mechanical Division Muhammad Hassan, Chief Medical Officer (CMO) Dr Munawar Hussain Wazir besides the officers of other concerned departments were present during the meeting.
EC Tashi took detailed review of total requirement, stock balance and remaining stock required in terms of various essential commodities in Zanskar Sub Division for the ensuing winter season.
The concerned officers from the respective departments apprised the EC about the status of various essential commodities.
The Executive Engineer Mechanical Division infomed the meeting that around 7000 liters of HSD has been made available for central heating at CHC Padum while remaining 60000 to 70000 liters will be procured soon along with the procurement of 30000-35000 liters of HSD for snow clearance.He further said that required machinery has already been deployed for snow clearance including dozers, loaders and JCBs.
The CMO Kargil informed that adequate quantity of medicines and other necessary medical requirements have been complemented while the remaining stocking will be completed by mid October.
In Charge AD Food Civil Supplies and Consumer Affairs said that around 84% rice, 90% atta and 42% kerosene oil have been procured till date while the remaining will be completed soon.
The concerned officers from the Forest Department said that 700 quintals of fire wood is presently available which is enough to suffice the requirements for the coming winter season.
EC Tashi while expressing satisfaction over the stock position of various essential commodities stressed to speed up the process of the stocking of remaining balance well before the closure of Kargil Zanskar Road NH-301.
---