LG Mathur attends concluding ceremony of maiden LG Horse Polo Cup 2021 at Drass
Ladakh Scouts Regimental Red Team emerge champions
KARGIL, OCTOBER 05, 2021: Lieutenant Governor Ladakh Radha Krishna Mathur attended the concluding ceremony of the first LG Horse Polo Cup 2021 at Horse Polo Stadium Goshan Drass where he was the chief guest.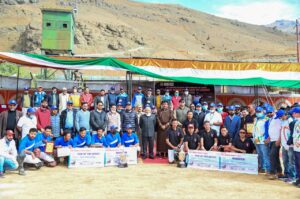 Chairman and Chief Executive Councillor, LAHDC, Kargil Feroz Ahmad Khan, Secretary Youth Services and Sports UT Ladakh Ravinder Kumar, SSP Kargil Anayat Ali Choudhary, ASP Kargil Iftikhar Talib Choudhary, Former Executive Councillor and Councillor Drass Mubarak Shah Naqvi, Councillor Bhimbet Aga Syed Muhammad Shah, SDM Drass Anwar Hussain besides the district and sub divisional officers were present during the concluding function.
Speaking on the occasion, LG Mathur extended congratulations to all the 14 participating teams especially the winner and runners up teams that participated in the final match. He stated that horse polo as a game involves a lot of vigour and physical activity and needs to be promoted among the youth of Ladakh. He said that efforts will be made to organise such Polo championships every year and Polo teams should practice regularly to attain proficiency.
Making mention of the vision of the UT Administration Ladakh to take polo to higher standards, LG Mathur said that concrete steps will be taken to achieve this goal.
He said that for development of sports infrastructure at horse polo stadium Goshan Drass which is a one of its kind polo ground located in the midst of picturesque mountains, the galleries around the stadium and other required infrastructure will be developed and improved.
LG Mathur further said that to promote winter sports a branch of the Institute of Skiing and Mountaineering will be opened in Kargil soon which will help in providing necessary technical guidance for improvement of ice hockey and other winter sports. He further mentioned that the UT Administration Ladakh has also provided funds to update the ice hockey stadiums at Leh and Kargil as 24×7 all-weather stadiums, while steps will also be taken to construct such stadiums at sub divisional, block and school level on similar lines.
The LG said that apart from ice hockey there is scope for improvement of other winter sports for which Kargil, Drass and Zanskar can be ideal locations.
Underlining the importance of sports for the overall personality development of the younger generation, the LG Ladakh stated that it is the endeavour of the UT Administration to provide ample opportunities to the youth to attain professionalism in the sports of their aptitude and liking.
Chairman and Chief Executive Councillor, LAHDC, Kargil Feroz Ahmad Khan in his address expressed gratitude to the LG Ladakh for taking the initiative for revival of horse polo by introducing the LG Polo Cup and hoped that it will continue in future with the participation of national and international teams.
He also congratulated the players from Leh and Kargil districts as well as the organizing committees for their efforts in ensuring the smooth and successful conduct of the maiden LG Horse Polo Cup at Drass.
Secretary Youth Services and Sports Ravinder Kumar while delivering the vote of thanks expressed gratitude to the LG Ladakh for his vision towards promoting and popularizing traditional games in Ladakh by conducting such tournaments.
He also thanked the UT Administration Ladakh, LAHDC and District Administration Kargil, Tourism Department, Ladakh Academy of Art, Culture and Languages, Police Department, other concerned departments, local polo clubs of Drass, polo teams, besides other individuals and agencies for successful conduct of the tournament.
Earlier, the final match was played between Ladakh Scouts Regimental Centre Red Team and Himalayan-B Drass which was won by Ladakh Scouts Regimental Centre Red Team by a margin of 4-0 goals.
Colourful cultural programmes were presented by the artists of the Ladakh Academy of Art, Culture and Languages (LAACL), Kargil while demo horse riding was displayed by the members of Ladakh Women's Polo Team.
Pertinently, teams from different parts of Ladakh including Drass, Chuchot and Mundik besides teams of Ladakh Scouts and Animal Husbandry Department Leh participated in the 7 day tournament.