UT Ladakh Admn issues accreditation cards to media persons
Leh, Oct 05: UT Administration today issued accreditation cards to 21 media persons, including 11 from Leh and 10 from Kargil district. Deputy Director, Information and Public Relations, Ladakh, Ghulam Nabi Tak, handed over the media accreditation cards to media persons from Leh district. Similarly, Assistant Director, DIPR Kargil, issued accreditation cards to media representatives from Kargil.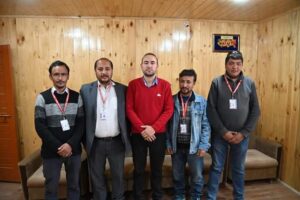 Media representatives from Ladakh have been granted accreditation for the first time as per Ladakh News Media Accreditation Guidelines 2021 that was framed and approved in March 2021. The objective of granting accreditation to media is to provide access to government events without any restriction and to ensure adherence to journalism ethics.