Leh, Nov 13: Joint Chief Electoral Officer (CEO), J&K, Anil Salgotra today convened a meeting to review the progress of Summary Revision of Photo Electoral Roll in both Leh and Kargil district.
Joint CEO Anil Salgotra enquired about the status of unprocessed electoral forms in both districts. He impressed upon the concerned Assistant Electoral Register Officer (AERO) and other concerned officials to dispose of the unprocessed forms at the earliest. He stressed that the data entry of all the physical forms received by the concerned officers/officials should be uploaded on the same day as per the instructions of the Election Commission of India.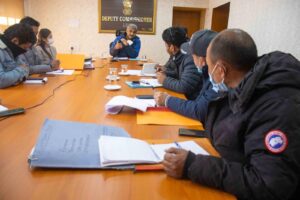 Terming the AEROs as the most important user of ERO Net, Joint CEO directed the AEROs to access the ERO Net to be aware of its functioning and progress of the summary revision of the electoral roll.
He also informed about the monitoring system developed by ECI to ensure that summary revision is carried out in a time-bound manner and smoothly.
AEROs of Leh and Kargil districts along with other concerned officials attended the meeting.