Leh, Nov 19: Advisor Ladakh Umang Narula convened a meeting to review the position of stocking essential commodities in Leh and Kargil districts for the winter.
During the meeting, the item-wise stocking position of different departments, including Food, Civil Supplies and Consumer Affairs (FCS&CA), Food Corporation of India (FCI), Cooperatives, Health, Power Development Department, Forest Division, Animal/ Sheep and Fisheries and the stock position of Hindustan Petroleum Corporation Limited (HPCL) and Indian Oil Corporation Limited (IOCL) were discussed in detail.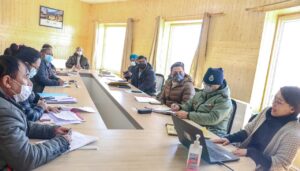 It was also informed that sufficient stock of all essential items, including food grains, fuel like petrol, diesel, kerosene, hard coke and medicines, animal feed and fodder, are available with both Leh and Kargil districts.
Executive Councillor, Cooperatives, LAHDC Kargil put forth a few issues regarding winter stocking which were duly noted by the concerned UT officers.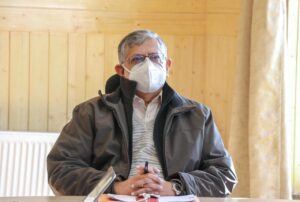 Earlier, Advisor Ladakh urged all the concerned officers to ensure all the essential commodities like food grains and fuel are dispatched to the inaccessible areas like Zanskar and Lingshed in winter at the earliest and all items are well stocked up till April 2022 to overcome any unforeseen delay in road opening next year.
Advisor Ladakh directed the Deputy Commissioners to prepare a detailed distribution plan of essential commodities to ensure fair and equitable distribution covering both districts. He also advised the concerned officers to form squads for regular market inspection to monitor rates and the sale of expired and rotten products.
Executive Councillor, Cooperatives, LAHDC Leh/Kargil; Secretary, FCS&CA, Ladakh; Secretary, Cooperatives, Ladakh; Chief Conservator of Forest, Ladakh; Deputy Commissioner, Leh/Kargil and the heads of various departments of both Leh/Kargil and representatives from IOCL, HPCL, Merchant Association, Leh/Kargil and Cooperative Consumer Societies, Leh were present in the meeting.