Leh, Nov 17: Additional Secretary/Finance Advisor, Ministry of Home Affairs (MHA), Government of India (GoI) convened a meeting to review the preparation of the accounts of the Ladakh Autonomous Hill Development Councils (LAHDCs) of both Leh and Kargil district pending for the last 25 years, in the presence of Advisor Ladakh, Umang Narula at the UT Secretariat.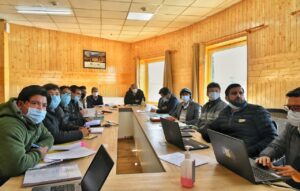 Additional Secretary, MHA was informed that the Finance Department of UT Ladakh has started a weekly monitoring system to review the accounts preparation of LAHDCs post the serious observation in the CAG report on non-submission of accounts since the inception of the LAHDCs. Additional Secretary also asked for submission of a sectoral-wise breakup of the current year's budgetary allocation and estimated expenditures incurred.
During the meeting, both the Chief Controllers of Finance (CCF) of LAHDCs of Leh and Kargil presented a detailed report on the progress of their work in preparing the pending accounts. They also informed about the various shortcomings and issues faced by them in this process.
It was decided in the meeting that the prepared accounts would be sent to the office of the Jammu and Kashmir Accountant General on the concurred deadlines starting from November, 2021.
It was impressed upon all the concerned officers to fulfil the committed deadlines. The Deputy Commissioner/Chief Executive Officer were urged to monitor the booking of expenditure under different works on a regular basis to ensure that allotted budgets are timely expended and not wait for the month of March, in view of restriction on expenditure booking in the last month of the financial year.
Additional Secretary, Finance, Finance Department, UT Ladakh; DC/CEO LAHDC, Leh and Kargil; Director, Accounts and Treasuries, UT Ladakh; CCF, LAHDC Leh/Kargil; Accounts Officer to DC Leh/Kargil and Chief Planning Officers of both the districts attended the meeting.