Kargil 17-11-2021
In a Press Conference held today here at Kargil, BJP Ladakh Spokesperson Hassan Pasha alleged that the leaders of Apex Body and KDA are misleading the people of Ladakh for their personal interests. He said that the delegation that comprised of leaders of Apex Body and KDA which met the Union Home Minsitry have failed to put forth a concrete plan of their demands. "On the one hand KDA is party to a suit in the Supreme Court against the abrogation of Article 370 while on the other hand Apex Body had welcomed the abrogation of Art 370," said Pasha.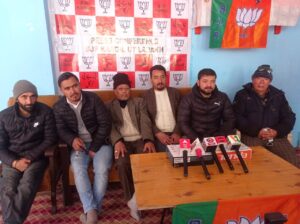 During the press conference Mohd Ali Majaz BJP State Vice President, Haii Abdul Hussain BJP District President, Mohd Ali Chandan BJP District General Secretary, Mohd Hussain BJYM State Vice President and Tashi Block President were present on the occasion.
Elaborating further, he said that the Union Government under the able leadership of Prime Minister Narendra Modi has been very considerate about the issues of the native Ladakhis. He said that reorganization of J&K has been done in the interest of Ladakhis. He also said that the recent decision to issue LRC for residents of Ladakh further goes on to demonstrate the belief of the Union Government.
He also said that in order to pass necessary safeguards for Ladakh, the Union Government will take a considerate action which is in the interest of the Ladakhis. He said that only the current Union Government has the mandate as well as the political will to take actions in the interest of Ladakh. He said that the Modi Government has fast tracked the construction of the Zojila Tunnel which was lying in cold store for a very long time and have been taking proactive steps for the overall and holistic development of Ladakh.
He urged the leaders of Apex Body and KDA to think about the future of Ladakh instead of their  seats which they lost after the abrogation of Article 370. He  said that the public is mature enough to see through their plans. He said that it was only after Ladakh became a UT that people saw real Empowerment of their representatives in the form of implementation of the Panchayati Raj Institutions in Ladakh.