KARGIL, NOVEMBER 19, 2O21:
3 day capacity building and training programme under the ICAR sponsored project entitled- Capacity Building of Farmers Through Training Programmes on Profitable Dairy Farming and Livestock Management conducted by the Krishi Vigyan Kendra (KVK) Kargil-1 concluded at Block Headquarter Sodh here on Thursday.
The programme was conducted under the theme-Scientific Management Practices for Rearing Small Ruminants. This project is sponsored by ICAR, New Delhi and is funded by the Ministry of Fisheries, Dairying and Animal Husbandry, Government of India.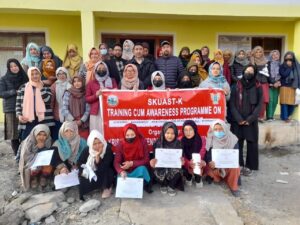 41 farmers belonging to various villages of Sodh Block including Tumail, Chutumail, Apati, Sharbatgund, Youbaltak, Barchay, Fikar and adjoining villages participated in the 3-day training and capacity building programme.
During the course of the 3 day programme, Training Coordinator Dr Syed Muhammad Shah, Scientist, Animal Sciences, KVK Kargil-1 enlightened the participants about scientific management, feeding, disease management, vaccination, housing, breeding and prevention and control of diseases in sheep and goat and othe related aspects.
Meanwhile, Dr Ghulam Mehdi Akhone, Head KVK Kargil-1 also highlighted the role and importance of small ruminants in farmers' sustainable economy and urged the trainees to practice what they have been taught in the programme for profitable livestock rearing.
Dr Ghulam Mehdi extended special thanks to the Directorate of Extension SKUAST-K and ICAR, New Delhi as well as the Ministry of Fisheries, Animal Husbandry and Dairying, Government of India for the project and highlighted the need for more such programmes in future in Kargil District.
The trainees were presented certificates after successful completion of the training programme in presence of the BDC Chairperson Zakir Hussain who had rendered proactive support in making the training programme successful.
Later, Dr Syed Muhammad Shah Scientist, Animal Sciences, KVK Kargil-1 expressed gratitude to the BDC Chairperson Sodh and his team, Head KVK-1 Kargil Dr Ghulam Mehdi Akhone, Dr Nazir Hussain of KVK Kargil-1 and other staff members of KVK Kargil-1 for their efforts in the successful conduct of the training programme.