KARGIL, NOVEMBER 23, 2021: Deputy Commissioner and CEO, LAHDC, Kargil Santosh Sukhadeve today convened a meeting of the concerned revenue officers to review the functioning of Revenue Department in the district.
Assistant Commissioner Revenue Kargil Abdul Gaffar Zargar, SDM Sankoo Ghulam Mohiuddin Wani, SDM Shakar Chiktan Muhammad Sharif Kakpori, SDM Drass Anwar Hussain, all Tehsildars and Naib Tehsildars of the district besides other concerned officers and officials attended the meeting.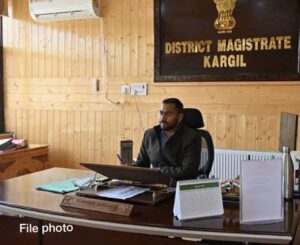 During the course of the meeting, the Deputy Commissioner reviewed the status of the submission of revenue papers of higher secondary and high schools for CBSE accreditation, submission of information regarding Nautor Mutation made in violation of Ailan No: 38, pace of progress on the issuance of Ladakh Resident Certificate (LRC), status of the writing of Jamabandies and Girdawaries, progress achieved on the preparation of the land acquisition papers of NH-301 (Package 1, 2 and 3), assessment of the flood damages of Shakar Chiktan Sub Division and other related issues.
DC Santosh Sukhadeve directed the concerned officers to ensure submission of the papers of remaining higher secondary and high schools within a period of 2 days so that the same could be uploaded online. Inquiring about the pace of progress achieved on the issuance of LRCs, the Deputy Commissioner asked officers to expedite the process so that maximum people especially the unemployed youth and students are benefitted.
Taking serious note over the non-submission of information regarding Nautor Mutation made in violation of Ailan No: 38 despite repeated reminders, the Deputy Commissioner stressed the officers concerned to submit the required information by the end of December, 2021. He also emphasized over the need to clear all pendencies with regard to the writing of Girdawaries and Jamabandies besides also ensuring the completion of all revenue records in a time bound manner.
Underlining the need for expediting the payment of compensation to the land owners with regard to NH-301 works at Kargil, Sankoo and Tai Suru, DC Santosh Sukhadeve directed the officers concerned to complete the assessment process at the earliest possible.
The Deputy Commissioner stated that effective and efficient functioning of the Revenue Department assumes greater significance for timely grievance redressal in the district, adding that all out commitment is required to achieve the set administrative targets in the sector.
The officers were further directed to listen to public grievances on a daily basis to ensure satisfactory delivery of public services.
Further, the DC also asked the officers concerned to tour their respective areas periodically for redressal of the grievances of the general public especially with regard to revenue related matters.