VC University of Ladakh visits GMDC Zanskar
KARGIL, SEPTEMBER 02, 2022:
Vice Chancellor University of Ladakh Prof. S. K. Mehta today visited Government Model Degree College Zanskar. He was accompanied with Secretary to VC Angchok and Assistant Registrar Nawang Tundup.
Principal GMDC Zanskar, MNM Shabani welcomed the VC and other guests and highlighted achievements of the college. He also briefed about various ongoing constructions projects in the college. Cultural programs were also presented by college students.
In his address, the Vice Chancellor applauded the college administration for the way college is progressing. He mentioned various activities carried out at college during the Ladakh Education Fair 2022.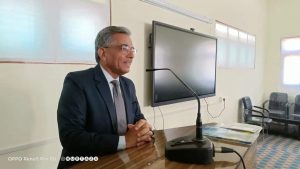 Prof. Mehta advised college faculties and students to take part in projects and research. He mentioned the need to digitize rock art of Zanskar as an option to preserve the art.
Later, the Vice Chancellor interacted with the students and gave a patient hearing to their demands and assured to redress the issues on priority.
The VC also inaugurated Modern Archery equipment recently procured by the college. Interaction with faculty members was also conducted at conference hall of the college. In the end, Prof. Mehta paid a visit to the ongoing construction sites of the college.
Earlier, Tashi Lwada ex-principal EJM College also addressed the students.