GHS Thasgam organizes school twinning program
KARGIL, SEPTEMBER 02, 2022:
Government High School Thasgam, Drass today organized a school twinning program which was also attended by students of GHS Kharboo, Drass.
The program was organized on the directions of CEO Kargil and under the guidance of headmaster GHS Thasgam, Mohd Saleem Lone.
During the program, students of both the schools interacted with each other.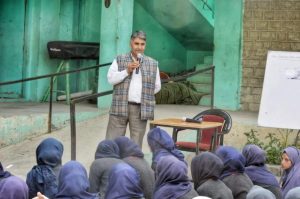 Teachers GHS Thasgam showed various activities to visiting students like Flat Foot Examination, Kaun Banega 500 Pati, ICT Lab, Conference Room, DG Lab, Science Laboratory and Sports Laboratory.
In the end Headmaster, GHS Thasgam thanked visiting students and advised them to focus on their studies and take active participation in sports and other co-curricular activities.