DDMA Leh successfully conducts mock drill exercise on earthquake
Leh, Sept 08: District Disaster Management Authority (DDMA), Leh conducted mock drill exercise on earthquake in collaboration with National Disaster Management Authority (NDMA), National Disaster Response Force (NDRF), UT Disaster Management Authority (UTDMA) and UT Disaster Response Force (UTDRF) in Leh today.
The exercise was conducted under the leadership of Chairman, DDMA, Leh, Shrikant Suse and CEO, DDMA, Leh, Sonam Chosjor.
The aim of the mock drill exercise is to evaluate the preparedness of the disaster management authority and forces of the UT and district administration to effectively tackle any adverse situation when faced with a disaster. The mock drill also aimed to ensure that the response to any disaster is carried out in a well-planned and coordinated manner between different departments and agencies. It ensured that the Incident Response Team are well-versed with their role and responsibilities during a disaster.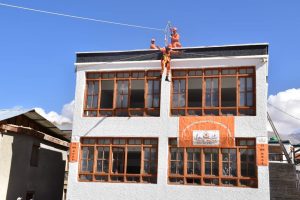 The mock drill exercise was conducted at different designated locations, including Food Craft Institute, Takski Thang, Govt Girls Higher Secondary School as staging area, Indian Oil Corporation Limited (IOCL), Agling, Tashi Thongsmom, Choglamsar and SNM Hospital, Leh. Each of these locations were allotted designated Camp In-charge who were responsible for overall management of their respective camps and were instructed to be in touch with the Emergency Command Centre/ Emergency Operation Centre at DC Conference Hall, Leh.
At the staging area in Govt Girls Hr Sec School, the NDRF taskforce performed several rescue operations and the rescue equipment and machinery of UTDRF was on display. The mock drills were efficiently carried out at all the different camps.
The mock drill was successfully conducted in association with the different concerned departments like PWD, PDD, Health and Telecommunication and central government agencies such as armed and paramilitary forces of Army, ITBP, Airforce, CRPF, CISF and HIMANK.
The mock-drill exercise concluded with a debriefing session held at Emergency Operation Centre (EOC). At the session, the Camp In-Charge of differ camps highlighted the best and the worst practices observed during the mock drill and also shared suggestions and feedback for improvements needed to ensure effective response during disaster in future with minimum loss of time and resources.