A review meeting cum workshop by National Health Mission, UT Ladakh held on 21st & 22nd day of October, 2022, concluded at Kargil, Union Territory of Ladakh.
The workshop cum review meeting was chaired by Dr. Iftakhar Ahmed Chowdhary(IRS), Mission Director, National Health Mission, Union Territory of Ladakh to review all the programmes under National Health Mission and workshop to the officers / officials of health department for proper and effective implementation of the programmes.
On the first day, Dr Pawan Kotwal(IAS), Principal Secretary, Health and Medical Education, UT Ladakh gave a special address to the officers and directed that UT Ladakh has small population compared to other States/UTs and it shall not be a major task for the health department to implement health related schemes efficiently.
He further instructed the Concerned to use the budget properly for health infrastructures improvement.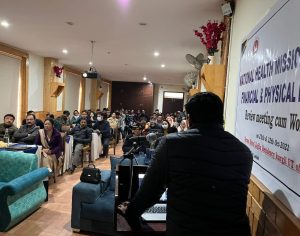 Dr Kotwal gave directions for improvement of physical and financial progress for all the programs under NHM.
He also instructed to ensure the free of cost care of patients under Pradhan Mantri Jan Aarogya Yojana (PMJAY) & Universal Health Insurance Coverage.
He also emphasised the need of infrastructure strengthening and Internet connectivity for all H&WCs.
The meeting was also attended by
Dr. Motup Dorje, Director Health Services, Dr. Munawar Hussain, Chief Medical Officer, Kargil, Dr. Kacho Liyaqat, Medical Superintendent, Dist. Hospital, Kargil,
Dr. Phunchok Nurboo, Director, (Co-ordination) ABDM, UT of Ladakh , Dr. Fatima Banoo, District Tuberculosis Officer, Kargil, Dr. Abdul Jalil, District Immunization Officer, Kargil,
All BMOs of District Kargil,
State Management Unit, NHM UT Ladakh and District Management Unit, NHM, UT Ladakh.
The concern State Program Officers of various program oriented the officers, officials, block management unit participated from the district and block level.
MD, NHM, UT Ladakh reviewed the said Programs in details and the same as follows :
Maternal and Child Health, Family Planning, Newborn and Child Health, Adolescent Health, Anaemia Mukt Bharat, H&WC, NHCP, IDSP, NPCDCS, PMNDP, NTEP, DMHP, NPHCE, NTCP, PMJAY, ABDM, NLEP, NCBP and NPPMTBI.