ADC chairs meeting regarding necessary arrangements for UT Foundation Day celebrations
Kargil, October 29, 2022: Additional Deputy Commissioner Kargil, Ghulam Muhi-Ud-Din Wani today chaired a meeting at his office chamber regarding necessary arrangements for UT Foundation Day celebrations to be held on October 31, 2022.
ACD Ghulam Muhammad, CPO Abdul Hadi, Headquarter Assistant Arifa Lone, CEO, District Sheep Husbandry Officer and other concerned officers/officials attended the meeting.
In the meeting, the ADC assigned responsibilities to various departments and committees as per the work requirement and instructed the concerned officers to undertake the responsibility efficiently.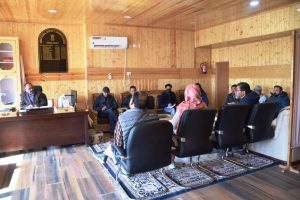 He informed that cultural programs and Unity Run will be organized. He apprised the meeting that on the Unity Day, people from various walks of life and ethnicities will participate in the celebrations to encourage unity in diversity.
The ADC directed the concerned officials for the preparation of award and prize distribution among the students who will participate in the UT Foundation Day.
He also directed every concerned department to install their stalls to display their products, artefacts and enlighten the people about the various new schemes.