ADC, Kargil reviews arrangement to commemorate Chehlum
KARGIL 13 September: Additional Deputy Commissioner, Kargil Ghulam Mohi ud Din chaired a meeting to review the arrangements in connection with the observance of Arbaeen of Hazrat Imam Hussain (A.S) on Monday.
During the meeting various necessary arrangements in connection with the observance of Arbaeen e Hussaini were discussed threadbare.
The meeting was attended by duty magistrates, representatives of religious organizations, and officers of other concerned departments.
The ADC directed the officers concerned to ensure all the facilities are available for the people and also asked to make sure the free passage of ambulances during the processions.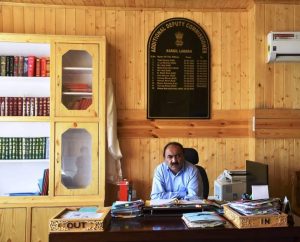 In the meeting, arrangements like power and water supply, deployment of doctors, ambulances, medical facilities, traffic management, sanitation of the places of congregations and roads from where processions will be taken on the day of Arbaeen were discussed in detail.
The ADC stressed that timing of the processions should be strictly followed and directed to ensure presence of volunteers for the same.
Security, traffic management and other necessary arrangements were also discussed in detail.
The ADC also directed the concerned departments to make all arrangements in time so as to ensure smooth conduct of the congregations as well as processions.