Syed Abass Razvi Chairman Sub Committees Kargil International Marathon, ACR Kargil review arrangements
KARGIL, SEPTEMBER 13, 2022:
Chairman Sub Committees Kargil International Marathon, Aga Syed Abass Razvi and Assistant Commissioner Revenue (ACR) Kargil, AG Zargar on Monday reviewed arrangements ahead of this year's marathon at Khree Sultan Cho Sports Stadium, Kargil.
Executive Officer MC Kargil, Exen PHE, DYSSO, Deputy Chief Medical Officer, Executive Engineer SVD Sankoo, Activity Officer DYSSO, Incharge Sultan Cho Sports Stadium, AD Tourism, Dy SP Manzoor Ahmad, other district officers and officials from other departments were present on the occasion.
Razvi along with ACR visited different marathon points to review the arrangements. They directed the concerned departments to make all necessary arrangements ahead of the marathon which is scheduled to be held on September 19.
They also visited the last site of Kargil marathon. Razvi and ACR thanked every department taking part in the marathon and hoped that the event will be held successfully.
Race Director of Marathon, Vasant Gokhalae and Marathon's Technical Director Sumant Waikar, who have already landed in Kargil, were also present during the visit.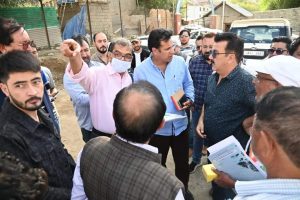 They instructed the concerned department regarding marathon points which include sponging and feeding sites and all preparations to be completed before September 18.
The preparations include ground cleaning and leveling, starting and finishing point arch, stage for the flag off and drinking water at every checkpoint and other facilities.