ADC Kargil reviews performance of banks at DLRC/DCC meeting
Kargil, March 27, 2023: Additional Deputy Commissioner, Kargil Ghulam Mohi-Ud-In Wani today chaired a meeting of District Level Review Committee/District Consultative Committee (DLRC/DCC) for the quarters ended September and December 2022 at Conference Hall, to review the performance of Banks in deposits, advances, CD ratio and achievement under Annual Credit Plan for the Financial Year 2022-23.
Lead District Manager, Muzaffar Hussain, Chief Agriculture Officer, Kacho Mohd Ali Khan, District Sheep Husbandry Officer, Dr Niyaz-ul-Hassanain, AD Fisheries, District Coordinators J&K Bank, Chief Manager SBI, Phunchok Angchuk, Cluster Head J&K Bank, Ashfaq Ahmad, PNB, J&K Bank, representatives of other banks and officials of other sponsoring Govt. Departments/Agencies were present in the meeting.
The ADC took an extensive review of Government Sponsored Schemes with Special focus on PMEGP, KCC, PM SVANidhi, PMAY, NRLM, NULM etc. The meeting also reviewed the progress under various Government Sponsored and Social Security Schemes.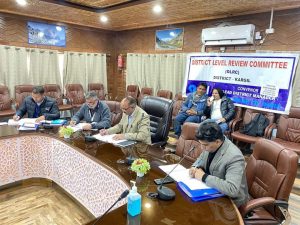 The meeting was informed about the achievements of Banks under Priority Sector. The ADC advised all sponsoring agencies and Banks to spread awareness among people about various self-employment schemes launched by the government and motivate them to avail the benefits of these schemes for generating self-employment opportunities in the District.
He directed all Banks to clear the pending cases sponsored by different Govt. Departments/Agencies at the earliest and further boost lending, particularly under agriculture and allied activities, MSME, Housing and Education Sectors, to achieve a healthy CD ratio.
The ADC also directed the Banks to cover all eligible persons under Social Security Schemes like PMSBY, PMJJBY and APY.
The District Level RSETI Advisory Committee (DLRAC) meeting was simultaneously convened by Director, SBI RSETI, Kargil. The ADC Kargil also reviewed the progress for the current financial year.
It was informed that 238 candidates have been trained till date in different trades in 08 programs under Rural Self Employment Training Institute, Kargil in the FY 2022-23.