Leh, May 02: Concerning the recent post on social media regarding an untoward incident happening in Jawahar Navodaya Vidyalaya (JNV) hostel, Additional Deputy Commissioner (ADC), Leh Sonam Chosjor met with the school administration headed by Incharge Principal.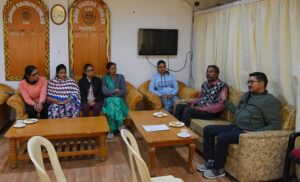 ADC Leh, Sonam Chosjor directed the school administration to take strict actions against the involved students and to further suspend or rusticate them. He added that inaction regarding such incidents would raise questions about the credibility of the school itself. He also instructed to send the names of the identified students to the District Administration at the earliest. He impressed that a strong message should be sent among such students to create a sense of deterrence for all.
ADC Leh advised the school administration to create a roster system of the teachers for random inspection of the hostels. He assured the school administration to provide all the necessary support to end such incidents in future.