AKSAD observe Ashura Procession in Delhi
Delhi, August 10, 2022:
Commemorating the great martyrdom of Hazrat Imam Hussain (a.s) and his faithful companions in the battle of Karbala, the All Kargil (Ladakh) Students' Association Delhi (AKSAD) paid rich tributes to the martyrs of Karbala in Ashura procession in Delhi.
The procession embarked from Shia Jamia Masjid, Hamilton Road, Kashmere Gate and culminated at Panja Sharif Dargah. Hundreds of male and female students from Kargil took part in the procession chanting Nohas.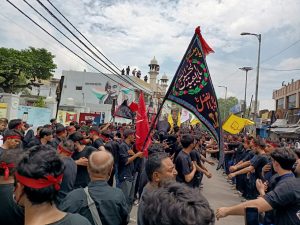 During the procession AKSAD members also distributed pamphlets carrying message of Karbala among pedestrians and non-Shia and non-Muslims.
Giving due importance to Cleanness, AKSAD volunteers also took cleanliness drive during the whole procession. Pertinent to mention that AKSAD had stared the campaign "Clean the Juloos" many years ago and since then it has become a routine for Ashura procession.
Besides the Ashura procession, AKSAD also organised the Shab-E-Ashoor where Representative of Iran's Supreme Leader in India, His Eminence Agha Mehdi Mahdavipur and Shiekh Jawad Habibi were presided as key speakers. Similarly, AKSAD also organized the event of Sham E Ghariban.
Pertinent to mention that AKSAD is organizing the events of Shab E Ashoora, Ashura Procession and Sham E Ghariban since its existence in 1997.