Arbaeen e Hussaini observes in Kargil
KARGIL, September 18: Hundreds of people in Kargil mourned the martyrdom of Hazrat Imam Hussain on Sunday.
Arbaeen marks the 40th day of the martyrdom of Imam Hussain (AS) and his followers in the battle of Karbala about 1400 years ago.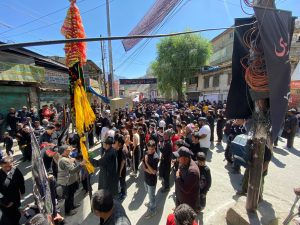 The largest religious congregation rallies in Kargil organised by Imam Khomenie Memorial Trust (IKMT) Kargil and Anjuman-e-Jamait-ul-Ulema Isna Ashriya Kargil.
The mourners reciting Noha passed Khomeni Chowk and went through the Central Market Islamiya School Kargil premises and reached Jamia Masjid and passed through the main market Kargil and culminated at Hussaini Park and Inquilab Manzil.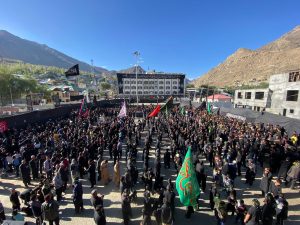 Special prayer for peace and prosperity and communal harmony in the society particularly in the country was also made.Later the procession concluded with observing Zeyarat Arabayeen.
In the meanwhile Arbayeen-e-Hussaini were also observed at Tehsil,Sub Division include Sankoo,Drass, Chiktan,Shakar Chiktan,Shargole,TSG Block Sankoo Sub Division and Taisuru Block ,Barsoo Block and Suru valley of Kargil.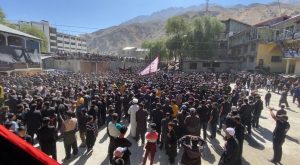 The district administration has made all the arrangement for successfull and smooth conclusion of the procession's