Artists from Ladakh perform at the Ladakh section of India Pavilion at Expo 2020 Dubai on Friday.
Dubai: India Pavilion inaugurated a dedicated section to display the art, culture and economic potential of the Union Territory of Ladakh at Expo 2020 Dubai site.
The section that will showcase this high-altitude desert region of India at the foothills of Himalayas, was inaugurated by Saugat Biswas, Divisional Commissioner and Secretary of the Union Territory of Ladakh, and Uttam Chand, Consul, Visa and Community Affairs, at the Indian Consulate in Dubai.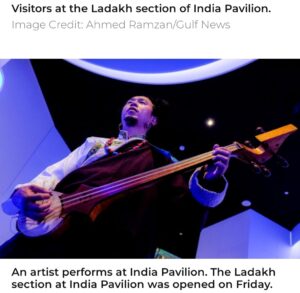 Visitors can gain knowledge about the "roof of the world" as the region is called, from October 22-November 4, the Indian Consulate tweeted.
Speaking to Gulf News about the rich cultural and economic heritage of Ladakh, Biswas said: "We see the inauguration of the Ladakh section here as a great opportunity to have an interface with thousands of international visitors. Ladakh has great economic opportunities waiting to be discovered. It produces the finest 'pashmina' (Cashmere) wool in the world, has an indigenous industry of stone and copper sculptures, interesting biodiversity, wildlife, migratory birds, flora and fauna. Ladakh is a popular destination for ice hockey, skiing and other winter sports." Biswas said the in-depth display of life in this picturesque mountainous desert region will attract people to explore the territory.
It may be recalled that the region of Ladakh was granted independent status of Union territory in 2018. Since then, there has been a surge in its potential for economic development — particularly through Tourism