Awareness program on prevention of drug abuse held at GMDC Zanskar
Kargil, October 17, 2022: Drugs Control Department and Price Monitoring and Resource Unit, UT Ladakh organized an awareness program on the prevention of drug abuse at Government Model Degree College Zanskar.
The program was divided into two sessions and was attended students, public representatives, faculty members etc.
The first session started with welcome speech by Prof. Ishaq. In his introductory speech, he highlighted about the various drugs and its negative impact. He emphasized on the various problems that drug addicts suffer throughout their life. He also highlighted the various features and sign of addiction.
Drug Controller Officer Bashir spoke at length on the drug addiction. He appealed the students not to get indulged in any kind of drugs whether it may be smoking, alcohol or other dangerous forms of drugs.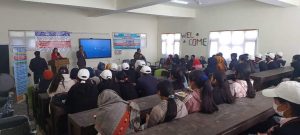 He said that drug trafficking and trading is a big challenge and most important people should be made aware about the menace. He together people could make a big difference in controlling and preventing drug addiction.
Incharge CMO Dr. Nawang also spoke on the occasion and gave awareness to the participants about many drugs and its abuse.
Dr. Kulsoom also shared information on the topic and how one can manage stress. In the second session Nazia field investigator spoke about the function of Ladakh Price monitoring and Resource Unit UT ladakh.
Nawang presented a detailed presentation on the role of national pharmaceutical pricing authority (NPPA). During his lecture, he explained how pricing of a drug violation can be checked. Under the aegis of NPPA, an online grievance redressal service titled "Pharma Jan Samathan" and "Pharma Sahidaam" is available to check pricing of medicines, availability and to book complaints.
In the end, many questions were raised by students that were answered by the Drug Controller Officer. Nazia field investigator moderated the whole program.