Azadi Ka Amrit Mahotsav: 4 day training programme for ICDS Supervisors, Workers begin at Kargil
KARGIL, OCTOBER 27, 2021: 4 day long training program for ICDS Supervisors and Workers as a part of the series of events under Azadi Ka Amrit Mahotsav was organized by the LAHDC Kargil in collaboration with 17000Ft Foundation and Key Education Foundation started at the District Institute of Education and Trainings (DIET) Chutuk here today.
Executive Councilor for Social Welfare Aga Syed Hassan Arman was the chief guest on the occasion while Nargis Banoo, District Program Officer, ICDS Kargil was the guest of honor.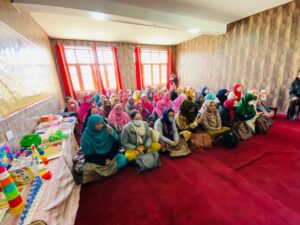 Ishey Stanzin In-charge Principal DIET Kargil, CDPOs of ICDS projects of Kargil, Shargole, Drass, Sankoo and Chiktan besides other participants were present on the occasion.
In his address Aga Syed Hassan Arman appreciated 17000Ft Foundation and Key Education Foundation for collaboration with LAHDC Kargil in organizing this program, which he stated will be very beneficial for the ICDS Supervisors and Workers to give their best in the ICDS centers.
He said that 17000Ft Foundation has been extending noteworthy services in Kargil over the years, and has reached out to many schools and given lot of training to the teachers.
Sujata Sahu, Founder/CEO 17000ft Foundation said that they have been working in Ladakh for the past eight years and in nearly 300 schools. She appealed the ICDS Supervisors and Workers to take full  benefit of the training programme and added that they will also visit aganwadi centres for training purpose.
Swetha Gulhan briefed about the works of Key Education Foundation and the 4 days training module. She said that they are working in early child care and education with government and different organizations.
Nargis Banoo, District Program Officer ICDS Kargil said the training program has been organized in order to extend training to the  Supervisors and Workers so that they impart the same to the children at the ICDS centres.She appealed them to take an active part in the training sessions and expressed gratitude to the CEC Kargil Feroz Ahmad Khan for organizing the 4 days training program.
She also thanked Key Education Foundation and 17000Ft Foundation for providing services to many ICDS centres in the district.
Zakir Hussain, Programme Head 17000Ft Foundation held the program proceedings.