CDPO, Shargole organises awareness camp on women rights and safety
KARGIL, NOVEMBER 09: Integrated Child Development Services,Child Development Project Officer, Shargole, Farida Batool today organised an Awareness camp on women rights and safety at Wakha, Kargil in collaboration with One Stop Centre, Special cell for women and health department Wakha.
Supervisor ICDS, Shargole, Zubida Banoo discussed about Nutrition for children and angandwadi workers.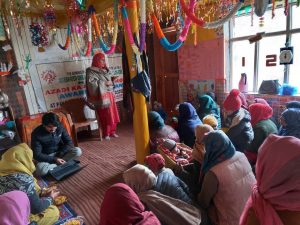 During the event, Social worker,Khadim Hussain briefly discussed about legal rights and services available for women.
One stop centre, centre Administration Umul Baneen briefed about women shelter and its services, she also threw light on the importance of such awareness camps.
Medical, FMPHW, Angmo emphasised on vaccination and its importance for child and mother well being.
CDPO, Shargole Farida Batool expressed his gratitude to the resource persons and assured to organise such events in future for the awareness of local masses.