CEC chairs review meeting to tap irrigation potential of Parkachik-Khaus irrigation canal
KARGIL, AUGUST 23, 2022: Chairman/CEC LAHDC, Kargil Feroz Ahmed Khan today chaired a review meeting with regard to the suggestion forwarded by UT Administration Ladakh to formulate a plan for utilizing remaining irrigation potential near the Tunnel of Parkachik-Khaus irrigation canal.
Councilor Parkachik Constituency in LAHDC Kargil, Haji Ghulam Muhammad besides Superintending Engineer Irrigation and Flood Control Department Kargil, Maqbool Hussain, Deputy Director Command Area Kacho Muhammad Ali Khan , Executive Engineer, I&FC Mehboob Ali and concerned engineers of the department were present during the meeting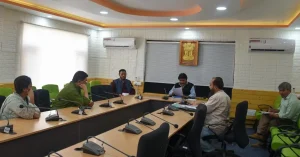 During the meeting, Khan said Parkachik-Khaus irrigation canal is an achievement of district administration and carries potential of 2262 hectares of irrigation land.
Khan said that for the fullest utilization of the created potential, the channels are required to be constructed by the Command Area Development Department. He directed the concerned department to prepare a DPR in this regard.
The CEC further added that the canal is complete, however only 430 hectares of the total created potential is being utilized which is one-third of the potential created.
Therefore, stringent policy must be drafted to tap the potential and irrigate maximum land around the vicinity of the tunnel.
Khan said that once the construction of tunnel on the canal is completed, the concerned agencies including Soil Conservation Department and Forest Department will also be engaged for the establishment of irrigation land around five villages that will get benefited from the canal.
The CEC further directed the concerned department to prepare DPR for the construction of irrigation khul at Parkachik Yokma and also asked to prepare DPR for maintenance work under Khaus Irrigation Canal under I&FC Department.
He also directed to prepare DPR for the distributary channel to cover 430 hectares of land by Command Area Development Department.
The CEC directed the CAD to prepare DPR for land development works. Khan further directed to complete the remaining works of tunnel at the earliest.
Khan was informed that works on tunnel is about to complete while only 20 metres of excavation work is pending and it is one of its kind of Engineering Marvel considering the tough landscape.