CEC Feroz Khan chairs review meeting regarding STP, network of sewerage in Kargil Town
Kargil, Jan 23, 2023: Chairman/CEC, LAHDC, Kargil Feroz Ahmed Khan today chaired a review meeting here at Council Secretariat regarding Sewerage Treatment Plant (STP) and network of sewerage in Kargil Town.
Deputy Commissioner/CEO, LAHDC, Kargil, Santosh Sukhadeve, Director Urban Local Bodies, Ladakh, Zahida Khatoon, Superintending Engineer PWD (R&B), Kargil, Superintending Engineer, PHE, I & FC Kargil, Assistant Commissioner Revenue Kargil, Chief Planning Officer, Kargil, Executive Engineers of PHE Kargil and R&B 2nd, Vice President MC Kargil, Executive Officer MC Kargil, Dr Shailender Singh Solanki, Councilor Baroo, Sheikh Ghulam Mehdi, Councilor Poyen Mohammad Amin, representative of Eco First Services Ltd. besides concerned officers were present during the meeting.
During the meeting, detailed discussions were held on different aspects related to implementing Sewerage Treatment Plant and various sewerage networks in Kargil Town.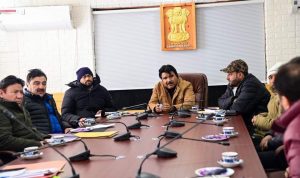 During the meeting, Dr Shailender Singh Solanki through Video Conferencing gave a detailed presentation on the comprehensive Sewerage System and STP for Kargil town. Through the presentation detailed insights were given on various components of the projects.
The CEC was informed about the project, scope of the work, design of STP and sewerage collection network, challenges regarding the project, approach and methodology, work progress, population projection, design approach, STP and PSs proposed, cost estimate and various other vital components.
The CEC was informed that DPR has been submitted and work is under tendering stage. Besides, the sewerage network will cater 1,45,145 souls including the floating population. The STP is designed for 98,982 souls for a period of 15 years. The whole project is framed to continue for 30 years. Further, six zones have been identified for the project.
Khan directed that regarding the identification of new land for the pumping station and STP, the concerned consultancy in collaboration with Revenue Department and Municipal Committee will conduct a final survey so that revenue papers of land are finalized and work starts at the earliest.
Director ULB assured that the survey will be completed within a week and the consultancy team will be sent to Kargil at the earliest.
The CEC further directed the concerned officers to clear all the pendencies related to the project. He said it is a vital project for the development of Kargil town and expressed hope that it will resolve the sewerage problems in Kargil town in the future.