CEC Feroz Khan chairs review meeting related to minor irrigation works, lift irrigation scheme of Sodh
KARGIL, SEPTEMBER 06, 2022:
Chairman/CEC LAHDC Kargil, Feroz Ahmed Khan today chaired a review meeting related to works of minor irrigation (drip Irrigation) and lift irrigation scheme of Sodh in respect of Yurbaltak constituency at Council Secretariat.
Former CEC LAHDC Kargil and Councilor Yurbaltak Constituency, Kacho Ahmed Ali Khan, Chief Agriculture Officer Kacho Mohammad Ali Khan, Executive Engineer PHE Division Mohammad Hassan Lone, BDC Chairperson Zakir Hussain and other PRI members of Sodh Constituency were present during the meeting.
Threadbare discussions and deliberations were followed on various aspects pertaining to the works related to Lift Irrigation and Drip irrigation scheme in Sodh.
The village representatives informed that the Drip Irrigation scheme is a success. However, due to drought-like situation, they stressed over the need to divert the funds under Micro Drip Irrigation to Lift Irrigation scheme works to preserve the existing crops, agricultural lands and orchards.
Speaking on the occasion, CEC Khan said that the Drip Irrigation Scheme shall not be converted into Lift Irrigation but, instead, the bored water of drip irrigation will be put into Khuls to save the existing crops, trees etc. due to severe drought. However same shall be used for drip irrigation once the drought situation is over," Khan said.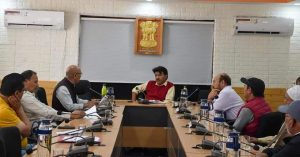 CEC Khan gave a patient hearing to the demand of public representatives of Sodh block and assured to do the needful by taking it up the matter with the higher authorities in the UT Administration since the said scheme falls under state sector SDP.
He agreed with the suggestion of the public representatives who, earlier, suggested that the original purpose of the scheme must be continued once the drought situation subsides.
The CEC said that owing to scarcity of water in the region, Drip Irrigation as undertaken in the SDP is the only viable solution in the longer run. Khan added that it has the potential to transform the agriculture scenario in the region.
Khan also took assessment of Major Lift Irrigation scheme to Sodh and was informed that Rs 1.5 cr has been released while Rs 60 lakh have been allocated for the access road while all machinery and equipment are dispatched by the concerned departments.
The CEC was informed that all measures will be taken to make Phase-1 of the Sodh Lift Irrigation scheme functional.
Earlier Chief Agriculture Officer Kargil gave detailed information about the status of Micro Drip Irrigation scheme in different villages of the Sodh Constituency.
The CEC was informed that under the New Command Area under Drip Irrigation, works at Yurbaltak, Byaama, Gyalsa, Chutumail and Apate are undergoing to irrigate more land with less amount of water and to irrigate oil seed and Alfalfa grown on pilot base.
The CEC was informed that the scheme is a success however more land needs to be incorporated under the scheme to reduce the cost factor.