ICDS organizes Nutrition and Sanitation Day at Chanchik
KARGIL, SEPTEMBER 06, 2022:
Department of ICDS under Poshan Mah and Poshan Saptah Women Health today observed Nutrition and Sanitation Day at Field Functionary Centre Chanchik.
The Women Community event was organized for beneficiaries under which healthy recipes were cooked using Take Home Ration (THR) packets.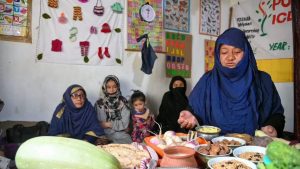 Further consumption of seasonal fruits and vegetables was promoted and informative games based on themes such as health, nutrition and sanitation were played.
Experts delivered talks on health and nutrition. Beneficiaries also shared their experiences.
Child Development Project Officer (CDPO) Kargil, Parveen Akhtar, concerned officers of ICDS besides beneficiaries were present on the occasion.