Advisor Ladakh Umang Narula reviews work under SDP & State sector expenditure
Directs transparency in work and timely expenditure of funds
Leh, Sep 06: Advisor UT Ladakh Umang Narula convened a meeting to review the progress of work under the Special Development Project (SDP) and State Sector (Capex) of UT Ladakh with the Principal Secretaries, ADGP, the Administrative Secretaries, Deputy Commissioners, Additional Secretaries, Directors, and concerned officers here Monday.
All the Administrative Secretaries apprised Advisor Umang Narula about the financial and physical progress of various ongoing and new work taken under the plans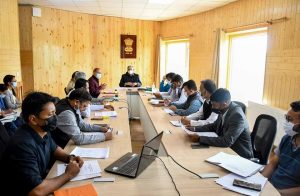 .
Reflecting on various issues during the review meeting, the Advisor gave directions to all the officers to maintain transparency in the execution of works and ensure timely expenditure of the funds. He exhorted the need to lay down conditions to check wasteful expenditure of funds, close monitoring of execution of projects, and stressed that all the expenditures must be made in accordance with the financial rules. He stressed that all the products procured by the UT Administration should be put to proper use for the greater benefit of the general public.
Advisor Ladakh Umang Narula exhorted upon all the Administrative Secretaries that all the pending works must be completed on a priority basis and the new works must be completed within the stipulated time-frame.
Principal Secretary Planning UT Ladakh Dr. Pawan Kotwal apprised the Advisor that in order to ensure maximum execution of work during the short working season in Ladakh, the UT Administration had granted approvals to almost 70-75% (in some cases) of works of the previous year's on-going projects by the end of April to facilitate early completion of the works.