NDMA conducts TTEx on earthquake in Ladakh
Leh, Sept 06: The National Disaster Management Authority (NDMA) conducted a UT level Table Top Exercise (TTEx) on earthquake headed by Consultant (ME&IRS), NDMA, Major General Sudhir Bahl (Retd) under the chairmanship of Commissioner/ Secretary, Disaster Management, Ladakh, Saugat Biswas in presence of Chairman, DDMA, Leh, Shrikant Suse and CEO, DDMA, Leh, Sonam Chosjor at the DC Conference Hall in Leh today.
Consultant, NDMA, Maj. Gen. Sudhir Bahl spoke at length about the Incident Response System (IRS) module and the role and functionaries of Incident Response Team (IRT) which is essential to tackle any unfortunate incident or disaster effectively. He stressed the inter-departmental coordination and advance coordination with other central government agencies such as armed and paramilitary forces in context of their available resources and support system for effective management during a disaster.
He shared a detailed power point presentation highlighting the structured and organised manner of IRS module including, Emergency Operation Centre (EOC), the role and responsibilities of the task forces and members of Incident Response Team. He stressed on using modern technologies, such as drones and satellite imageries to assess and analyse the disaster damage and to prepare a planned and effective response.
Maj. Gen Sudhir Bahl added that the effective disaster management preparedness and response is essential to mitigate the damages caused by the disaster in terms of human and material loss.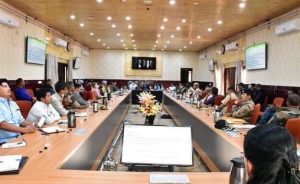 Earlier, District Disaster Management Authority (DDMA), Leh and several departments like Health, PDD and FCS&CA presented presentations on their resource availability and disaster plan.
The Table Top Exercise presented hypothetical earthquake scenarios and deliberated on the consequent responses from the designated IRT team members, including the Incident Commander, Planning Section Chief, Operation Section Chief, Logistic Section Chief and others.
The TTEx meeting involved HoDs and Officers of all the stakeholder agencies, including Revenue, District Police, UTDRF/ Civil Defense, Armed and Paramilitary forces like Army, ITBP, BRO, NHPC Nimoo-Basgo, NHIDCL, FCS&CA, PWD, PDD, Medical, Telecommunication, NYK and 13th Battalion, NDRF among others headed by Chairman, DDMA Leh, Shrikant Suse and CEO, DDMA Leh, Sonam Chosjor in Leh.
Similarly, the concerned officers and stakeholders from Kargil headed by Chairman, DDMA, Kargil, Santosh Sukhdeve were present through video-conferencing.
The Table Top Exercise is conducted as a precursor to the Mock Exercise on Earthquake to be held on September 8 in both Leh and Kargil districts to sensitise the stakeholders with the preparedness of the response mechanisms at the time of an earthquake.
The public is hereby informed about the scheduled mock exercise on earthquake in both Leh and Kargil district and any inconvenience caused due to it is regretted.